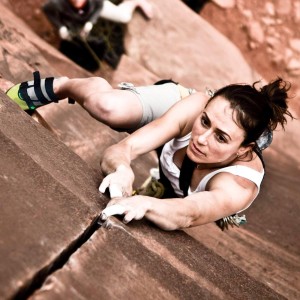 Steph Davis is a Climber. Flyer. Speaker. Writer. And Friend. Or atleast that's how she describes herself! Simply put, Steph is an adventurer. Whether it's scaling a treacherous rock face, or base jumping into a canyon, she's always up for it. And of course, she's doing it all while being on a plant based diet! We sent our quick fire 5 questions to Steph, and she came back with a bit of insight on what being vegan means to her. Check it out!
When did you first decide to go full vegan, were you vegetarian first or did you leap straight into the deep end?
I became vegan in 2002. I spent a year trying different eating styles (3 months each one), none of which were vegetarian or vegan. At the end I did the Master Cleanse. When I started eating normal food again, I was drawn to whole foods, plant based choices. After a couple of weeks I realized I was vegan, and just decided to go with it. I immediately saw results in my climbing and running, so I never stopped.
What was the hardest thing about starting a vegan lifestyle?
I used to like to put organic half and half in my coffee, and that was hard to let go of. Now I actually don't drink much coffee, and I tend to have it black or with some coconut creamer.
Was there any food that was particularly hard to go without at the beginning?
(same as above)
What's your go-to vegan meal?
I love stir fry with tofu, broccoli, ginger, garlic and serrano pepper and brown rice.
Any advice for people thinking about giving veganism a try?
To me, it's a whole foods, plant based eating style. I don't eat any processed food or refined sugar or white flour or white rice. I would suggest that people think of this as more of a whole foods, whole grain way of eating, with lots of fresh vegetables and fruit, rather than trying to eat the same meals as always while eliminating the animal products from them. So look for good whole foods choices and just avoid processed food and stripped out grains, which is always going to be a really healthy way to eat.
You can follow Steph on Twitter, Pinterest, Facebook or check out her website here!
This is a post in the "Going Vegan" series. You can read more stories like Steph's, and also get in touch with us to nominate someone for Going Vegan here : http://www.theveganfoodblog.com/going-vegan/