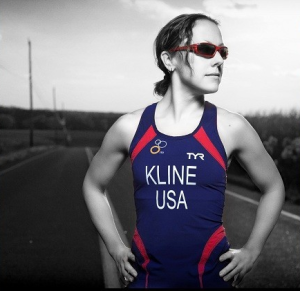 Laura Kline is a multi sport athlete representing USA in both the Duathlon and Triathlon. Among other accolades, she has been the 2012 Short Course Duathlon World Champion, 2014 Long Course Duathlon National Champion, and represented Team USA in 2008 for Triathlons (Full list of accomplishments here : http://laurajkline.com/about/). And of course, she's managed to do all of this on a plant based diet! We sent our quick fire 5 questions to Laura, and she came back with some amazing insight on her vegan lifestyle. Check it out below!
When did you first decide to go full vegan, were you vegetarian first or did you leap straight into the deep end?
2015 will be my 10th year as a vegan. I did start as a vegetarian in 2001. Handling and preparing raw animal flesh became disgusting to me so on New Year's Day I decided I would never eat it again! Unfortunately it took me a few more years to realize that dairy was also wrong as well as unnecessary.
What was the hardest thing about starting a vegan lifestyle?
Wondering why your friends and family didn't think it was the greatest thing ever and weren't joining you? I kid, but only a little bit 😉 I would say the learning curve was the only challenge although I wouldn't say it was hard. When it came to food it was learning how to replace the non-vegan items you were used to cooking. Creating meals and "finding your protein" was easy, but learning about options like egg replacers in baking was new to me and I had no vegan friends at the time. For me it was also a little intimidating being "that girl" at the restaurant who was questioning everything. Today this is a thing of the past – not only do I have more confidence in voicing my requests, but as veganism becomes more mainstream you will find that most of the wait staff you come across are either knowledgeable or more than happy to find out for you.
When it comes to the lifestyle aspect of veganism, the challenge comes when you realize there are most likely things in your life that are not vegan. Leather in your shoes, belts, etc. Wool gloves and hats. You learn to check these things while you are shopping – it's not hard to find the vegan options.
Was there any food that was particularly hard to go without at the beginning?
Not really – once the light bulb finally switched off I was pretty disgusted by those items I willingly gave up. However one meal I missed was a good traditional pizza. That craving was very short-lived and those days are LONG gone as there are awesome vegan cheese options on the market now, and also that you can create yourself.
What's your go-to vegan meal?
I'm going to sound boring when there are many awesome vegan dishes you can make that would blow any die-hard carnivore's mind. I'll give you my 2 simplest go-to meals when I need to fuel after a day of training and I want to keep it quick and easy. 1) Tempeh sautéed in a bit of coconut oil, a heaping portion of kale sautéed with some garlic, and a serving of quinoa with some Bragg's Liquid Aminos for flavor. 2) Sweet potato, quinoa, chick pea curry.
Any advice for people thinking about giving veganism a try?
Don't: Allow the people around you suddenly become your personal certified nutritionists and tell you why it's a bad idea. There are plenty of resources available to direct you on how to live a healthy vegan lifestyle – athlete or otherwise.
Don't: Be afraid that your body will be lacking anything essential by cutting out animal products. Vitamin B12 is the one thing you will want to supplement with when you choose a vegan diet. Everything else you can get from plants. It's that simple.
DO: Have fun exploring the options available and discovering great ways to prepare foods you never thought of trying!
DO: Enjoy the new energy you will feel from the change – not only physically when illness becomes rare and you recover from workouts faster, but also how you feel mentally knowing that your choices are in line with a compassionate lifestyle – compassionate to the animals whose lives matter and also to the environment.
DO: Share your story and your experience with others 🙂
You can follow Laura on Twitter, Instagram, and her Website which she keeps up to date with events that she's competing in.
This is a post in the "Going Vegan" series. You can read more stories like Laura's, and also get in touch with us to nominate someone for Going Vegan here : http://www.theveganfoodblog.com/going-vegan/