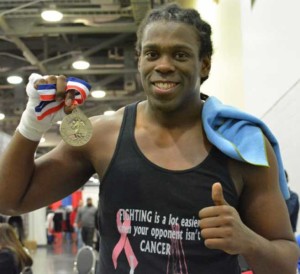 Lenroy Thompson (Known as Cam F. Awesome) is an American amateur boxer best known for winning the USA title in 2008, 2010, 2013, and 2014 at super heavyweight . He also has high hopes of making the 2016 Olympic team. All the while doing that on a plant based diet. Maybe next time someone asks whether you can have muscle and pack a punch on a vegan diet, give them a show them one of Cam's fights! We threw a quick fire 5 questions at Cam to see how others are living a vegan life style.
When did you first decide to go full vegan, were you vegetarian first or did you leap straight into the deep end?
I took the deep leap! My vegan mentors showed up to my house Sunday morning with a garbage bag to take all of my meat, dairy and non vegan products out of my house to a friends house. They literally cleaned out house.
What was the hardest thing about starting a vegan lifestyle?
Reading labels and being conscious of what I eat.
Was there any food that was particularly hard to go without at the beginning?
Cheese was the only thing I truly missed but I got over it. It's not impossible.
What's your go-to vegan meal?
I really enjoy vegan lasagna. I like to make a few pans at once. It's my guilty meal.
Any advice for people thinking about giving veganism a try?
I would tell someone to not only go vegan at first but to go plant based and struggle through the first 20 days and it will be amazing the change they feel!
You can follow Cam on Twitter, Facebook or check out his Website to keep up to date on his bid for Olympic glory in 2016.
This is a post in the "Going Vegan" series. You can read more stories like Cam's, and also get in touch with us to nominate someone for Going Vegan here : http://www.theveganfoodblog.com/going-vegan/